This feature was updated in July 2019 by Will de Montmollin
Bulk Market
Hackney, E8
After a hugely successful crowd funding campaign, and a short stint as a popular pop-up on Kingsland Road, Bulk Market's new permanent location is one of London's most exciting zero-waste shops. Bring along your jars, bottles, and bags, weigh them, and then stock up on everything from grains to oils and herbs, as well as free range and/or organic dairy, and a few household and personal hygiene products – including DIY beauty ingredients. We love their mostly-organic stock, and their wide and expanding range of items, which is soon to include alcohol and pet food.
bulkmarket.uk
@bulkmarketuk
Hetu
Clapham, SW11
A beautifully designed and organised store with highly satisfying walls of dispensers and containers, Hetu share the 'if we can weigh it, you can fill it' philosophy, and take their name from the Hindi word for 'purpose.' Here you'll find items that can be rare to see elsewhere, such as safety razors and blades, raw chocolate covered raisins, as well as a few zero-waste essentials such as reusable cups and lunchboxes.
hetu.co.uk
@hetu_uk
Get Loose at Hackney City Farm
Hackney, E2
Hackney City Farm hosts a small social enterprise that seeks to share affordable goods without single-use packaging. Paired with the farm's pick up point for Growing Communities' veg box scheme, Get Loose has helped transform Hackney City Farm into a wonderful one-stop-shop for sustainable, local food in London. As well as some of the staple cereals and grains, Get Loose stocks local fresh herbs and produce, organic unhomogenised milk and non-dairy milks as well as tinned and glass-jarred items such as tomatoes, sauces, and fish. Their stock also includes recyclable and reusable packaging which makes them a great first step for anyone starting out on their waste-reducing journey.
getloosefoods.com
@getloosefoods
Shop WithOut Packaging (SWOP)
Lee Green, SE12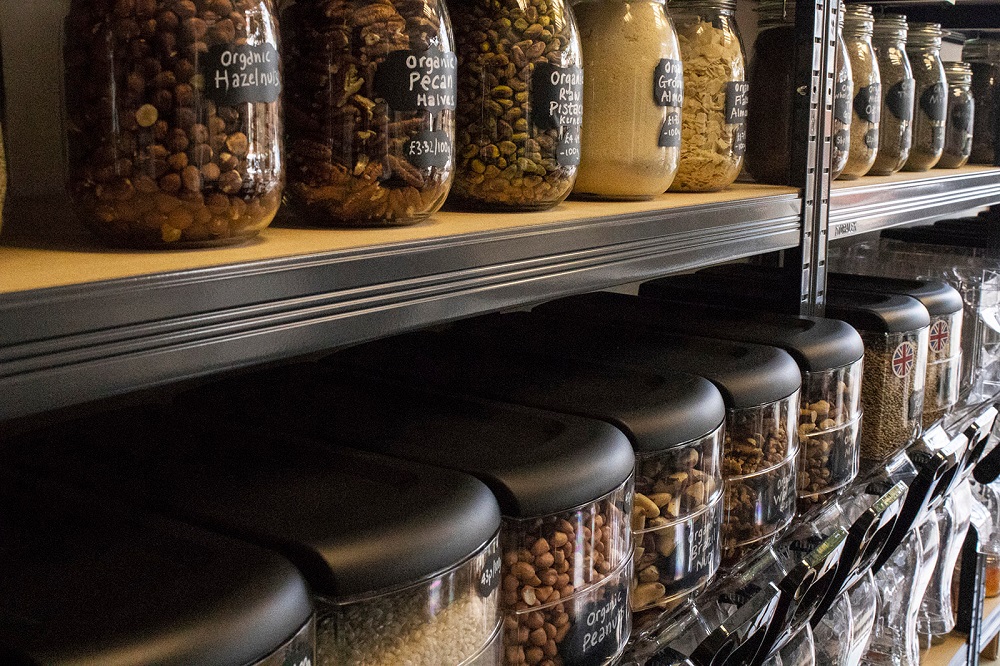 Credit: Harriet Hemsley
SWOP was founded two mums who wanted to eliminate unnecessary packaging from their families' lives. They created SWOP as a one-stop shop for the packaging conscious consumer; their range covers all of the daily necessities, with 70 different dispensers of organic, fairtrade food staples; they also have a wide variety of cleaning products and beauty supplies—all plastic free. Best of all: if you can't find what you want in stock, you can always ask them, and they'll do their best to source it.
https://www.swop.market/
@SWOPZeroWaste
FareShares
Walworth, SE17
A real secret gem, this food coop has been hidden near Elephant and Castle tube station since 1988. Fully volunteer run and not-for-profit, FareShares champions a 'for need not greed' approach, supporting 'patterns of consumption that promote social justice and sustainable agriculture' while fostering 'an awareness of the political and ecological effects of consumer action,'. This fantastic approach means their stock is usually organic, local, and well-sourced. A visit here can be turned into a true counter-culture celebration – FareShares shares a building with the 56a Infoshop, an open-access archive and bookshop covering all manner of radical politics, and 56a Bikespace, a DIY bike repair workshop with cheap and second hand parts. The three are collectively run together, are unfunded, and create a community social centre.
fareshares.org.uk
Naked Larder
Herne Hill, SE24
Operating with a slightly different and unique model for zero-waste shopping in London is Naked Larder. More of a subscription or ordering system, customers can place an order online, and collect at a pre-arranged time with their own containers, where their goods are weighed and organised by staff. This format is designed to keep running costs, and therefore prices, low, with larger volumes and fewer collections. Customers can order every month, or less frequently, and choose from a wide range of products on their website, including grains and cereals, dried fruits, nuts, seeds, beans and pulses, and baking ingredients. This could be a fantastic option for busy families and house shares.
nakedlarder.co.uk
@nakedlarder
The Source Bulk Foods
Battersea, SW9; Chiswick, W4
An Australian import, The Source franchise has already opened locations in Chiswick and Battersea, and are proof that zero-waste stores can commercially expand. Both stores are well stocked and organised, and offer a huge range of organic wholefoods, cooking liquids and oils, healthy snacks and sustainable personal and household products. They have a particularly good selection of sweet treats, including chocolate covered freeze-dried strawberries, vegan gummy bears, yogurt coated blackcurrants, and package-free chocolate bars.
thesourcebulkfoods.co.uk
@thesourceunitedkingdom
Earth Natural Foods
Kentish Town, NW5
From coffee to soya chunks as well as an offer of organic fruit and vegetables the stock is big enough for your weekly shop. As well as bulk and loose goods, Earth Natural serve a well-loved changing menu of salads and hot dishes such as soups and pastas. Catering for a range of dietary needs and cooking inspiration, the ingredients for the dishes are also for sale in the shop. A great selection of organic wine and local beer, fresh bread and baked goods (including vegan bakes) and their close proximity to Regents Park and Hampstead Heath, makes Earth Natural Foods the ultimate sustainable picnic pick-up spot. You can even bring your own containers for the takeaway options.
earthnaturalfoods.co.uk
@earthnaturalfoods
Alara Wholefoods Ltd.
Outlets across London, including Planet Organic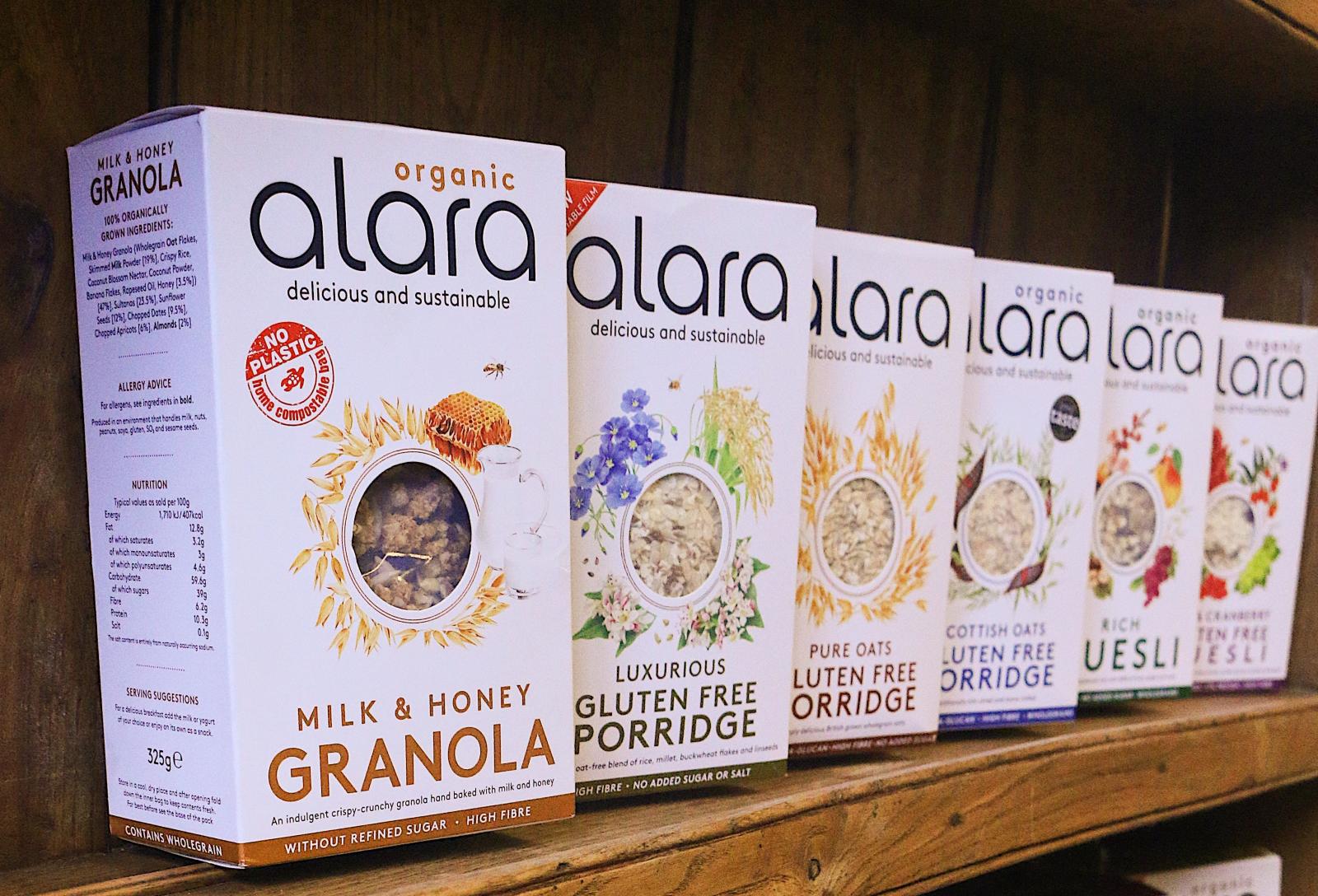 An award-winning cereal producer, you might know Alara for their delicious mueslis and pioneering sustainability efforts. They were the first cereal company in the world to be certified organic and the first food company in the UK with zero waste, carbon-neutral facilities (one of which is located minutes from King's Cross). They produce a variety of mueslis, porridges and granolas—many of which are organic, gluten free and sourced from British growers. And now, they have completely eliminated plastic from their packaging; the inner film of their cereal bags is entirely plant –based; you can even safely add it to your home composting setup.
https://alara.co.uk/
@AlaraCereals
London Farmers Markets
Across London
It's easy to focus on the newer, zero-waste movement-focussed shops when looking to shop sustainably and reduce our packaging use, but we shouldn't forget that many of our older traditions have held answers all along. So many of the excellent organic farmers hosted by the many farmers' markets across London sell loose produce, or paper-packed goods as they were always meant to be. Local, sustainably grown, free of single-use plastics, this produce remains one of the best ways to champion farmers working in a way you support, and contribute to an improved food system for London.
lfm.org.uk
@londonfarmers
E5 Bakehouse and Millhouse Shop
Hackney, E5
The beautiful unwrapped loaves at E5 Bakehouse deserve a mention of their own, but the products in their Millhouse Shop turn this location into a great all-round zero-waste stop. Alongside their own range of UK grain flour, stoneground at the on-site E5 mill, organic butter churned at the bakery and house-made preserves in glass jars the Millhouse Shop also stocks unpackaged organic seeds, grains and nuts that are used in their daily breakfast and lunch menus, fruit and vegetables, and beer and wine.
e5bakehouse.com/shop
@e5bakehouse
Unpackaged
Across London
One of the early advocates of the zero waste movement, Unpackaged has gone through various incarnations to arrive where it is today. Originally a brick and mortar store, their goal is now to enable businesses large and small to reduce their packaging waste. Unpackaged offers support to entrepreneurs looking to start their own zero waste stores with group workshops and expert consulting. They also set up package free retail systems for supermarkets, and these days you can fill up your reusable containers at their stands in Planet Organics across London.
https://www.beunpackaged.com/
@Unpackaged
---
Honourable mentions:
Although not operating under a plastic-free or zero-waste philosophy, Neal's Yard Remedies (various locations) and G Baldwin & Co (Walworth, SE17) both stock an array of dried herbs and flowers in bulk, perfect for tea without the plastic that hides in many teabags.
And want to delve deeper into the plastic conudrum? Check out this blog from our friends at Growing Communities.