Management Committee Members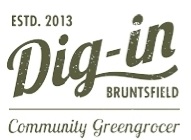 Dig-In Bruntsfield
Remote working/Bruntsfield area Edinburgh
Posted: 5 Jan 2023
Deadline: 19 Feb 2023
Compensation: Volunteer
Volunteer Remote working
Job description
We need new voices to join our volunteer Management Committee at Dig-In Bruntsfield - a community owned greengrocer selling fresh, as local as possible fruit, veg and wholefoods on the High Street in Bruntsfield, Edinburgh. This is a great opportunity to help define and support the strategic direction, priorities and sustainability of Dig-In.
We pride ourselves in our large organic range and our ambition - to be part of the regenerative, resilient, inclusive, climate smart food futures that we all know are possible and critical given the multiple climate, biodiversity and societal crises facing our community and beautiful planet!
As part of the MC you will support our small staff and volunteer team run the shop, providing leadership and enthusiasm.
In terms of skills, we'd welcome those with experience as Treasurer, communications, obtaining funding grants, community outreach and growing sustainable businesses. However we're open to all and keen to hear from anyone willing to bring their own unique skills and a passion for community owned business and sustainable food systems!
This is a rewarding volunteer role and an opportunity to support a community owned, not for profit business as part of a small MC.
Application information
Please email our co-chairs Amanda and Carl with a short paragraph on why you'd like to join the MC and what you feel you'd bring to the team to: volunteer@diginbruntsfield.co.uk.
Thanks so much for reading!
Please mention Roots to Work when applying for these jobs
About Dig-In Bruntsfield
We're a community owned greengrocer, established in 2013 as a community benefit society with over 300 shareholders. We aim to provide our high Street in Edinburgh with a range of local, wholesome fresh fruit, veg and wholefoods - with a large range of organic and fair trade. We have 3 part time paid staff and a small volunteer base who support running the shop and who make up the Management Committee.