Many organisations in the Sustain alliance are committed to combating the inherent racism and injustices in which our food and farming system are steeped. We also recognise that good solutions can only be found and championed when the people most affected are involved in decision-making and in shaping what we work on and how we see the world.
Yet the environment, climate, sustainability and conservation sector is one of the least diverse in the country in terms of leadership and employees. Data from the Office of National Statistics shows that the average rate of employment in all professions for people identifying as from Black, Asian and minority ethnic backgrounds is over 12%. Yet in the environment and conservation sectors, it is shockingly low, at between 0% and 4%. Let's work together to fix this.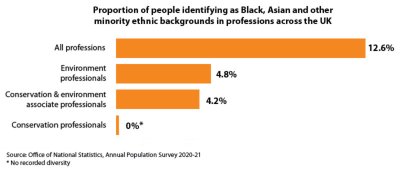 Sustain would like to help our movement to become more representative of the communities we are working to serve. Sustain is taking a range of actions, including participating in The RACE Report and we want to encourage Sustain alliance members to join in with this initiative, as a cohort committed to working together for racial justice in food and farming. The RACE Report is run by a coalition of Hindu Climate Action, Nature Youth Connection and Education, South Asians for Sustainability and Sustain alliance member Students Organising for Sustainability (SOS-UK), who coordinate the work.
As a Sustain alliance member, will your organisation join in with The RACE Report initiative? Please get in touch.
Participation would entail collection and submission of key data on staff, leadership, Trustees and on employment practices in relation to ethnic diversity, and templates can be provided.
"Unfortunately, minoritised communities in the UK are used to slow progress on equity and diversity in the workplace. I'm heartened that RACE Report will provide transparency and a means for ongoing frank discussions about the pace of change in the sector. We will soon find out which organisations are prepared to do the hard work that comes with genuine transformation, versus those which are only comfortable with change when it's reserved to Instagram posts."

Andre Kpodonu, Head of Activism, Feedback and member of Sustain's Council of Trustees
As well as shaping up our own internal culture, recruitment and employment practices, we want to support Racial Action for the Climate Emergency (RACE) in their aim to bring greater transparency to the sustainability sector, to cultivate the impetus to go further and faster on diversity and inclusion. Having looked at their survey and plans, we think this will also provide a very helpful and authoritative benchmark for the sector, and opportunities to compare performance and identify gaps, as well as share ideas and good practice to drive and inspire collective action.
Read Sustain's Annual Progress Report for 2021 on Diversity and Anti-racism here.
Note on The RACE Report timetable and process
The Race Report plans are as follows:
April to September 2022, collect comparable data from UK charities, and trusts and foundations, that predominantly work on, or fund, environmental, climate, nature or sustainability issues.
In October, analyse the data and prepare the inaugural RACE Report, an annual summary report of the sectoral data, with anonymised data providing a benchmark.
Provide case studies demonstrating initiatives helping progress equality, diversity and inclusion in organisations and the sector.
In 2023, and annually, repeat the survey and publish The RACE Report annually. From 2023, introduce online transparency cards for individual organisations.