SHARE
Cultivate Lead Grocer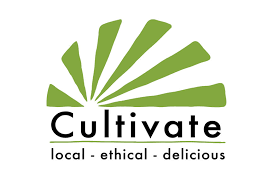 Cultivate Oxfordshire
Cultivate, Hinksey Heights Golf Course, Southern By-pass (A34), Oxford OX1 5AB
Posted: 26/07/2019
Deadline: 27/08/2019
Compensation: £20-22k pro rata (18.5 hours per week)
Paid Part-time Fixed term / contract
---
Job description
Working Hours: 18.5 hours week with possibility for more, Core working days are Wednesday, Thursday, and two Sundays per month Salary: £20-22k pro rata, depending on experience. Contract: 1 year, with possible extension. 1 month probation period Entitlements: 20 days (pro rated) holiday per calendar year, plus bank holidays. Time-off-in-lieu may be taken for additional hours. Responsible to: Planning and Finance Lead Responsible for: Market grocers, packers and volunteers Deadline: Please send CV and cover letter to becks@cultivateoxford.org by 27 August. Interviews: Interviews will be w/c 2 September. Start date: Early/mid September 2019
CULTIVATE
Cultivate is an Oxford-based members cooperative set up in 2011 to provide healthy food, grow the local sustainable food economy, and education about the need for a better food system. We buy organic produce, prioritising farms within 22 miles of the city, helping them get their produce to market and giving them a fair price (50-70% of selling price goes back to the growers). We sell at a local farmers market and also offer an online delivery service in Oxford by bicycle courier, thus reducing carbon. Unsold produce is given to local food poverty projects. Our aim is to have good food doing good! www.cultivateoxford.org
JOB SUMMARY
An exciting opportunity to join a dynamic team supporting the agro-ecological movement in Oxfordshire and beyond. Leading the distribution of our local produce, this varied role is the backbone of Cultivate's work. You will work directly with customers at our markets, local producers at their farms, students at university colleges and customers at businesses we partner with. You will work with the wider team to build the market for local sustainable food in Oxfordshire, getting good food to Oxfordshire. Building strong relationships with customers and our large co-operative membership base is crucial in this role. It is a busy, hands-on, customer/producer facing role at the heart of what Cultivate is doing. There is room for expansion in this role and flexibility about what it covers in co-ordination with the other members of the team.
MAIN RESPONSIBILITIES
Collecting produce from local farms – driving to local farms and suppliers to collect produce, developing relationships with them to understand the seasonal cycle of farm activity. Providing a link on these topics to customers to bring the food system alive for people. Having ideas about cooking and food usage.
Running the farmers market stall – running the market stall two Sundays each month and co-ordinating staff to cover it the rest of the time. Handling cash and digital sales, making sure the stall looks great and attractive to customers. Working with Cultivate's Buying and Marketing Lead to ensure good stocks for running the market.
Building a team of packers - building a new team to pack the weekly boxes, drawing from local community organisations which support people getting into employment. Overseeing the work of the packers.
Management of grocers and volunteers – co-ordinating and managing the grocers and volunteers working on the market stall.
Oxford Colleges – being the lead contact point for 'Cultivate Champions' in colleges at Oxford University, co-ordinating with students about the weekly produce and drop off times. Working with the wider Cultivate team to get more colleges on the books.
Produce sourcing – helping the Buying and Marketing Lead to expand our range of produce from local farms and suppliers
Community van – taking bookings, managing logistics and ensuring the vehicle is in good condition.
Reporting to the Management Board – working with the Finance and Planning Lead to feed into monthly financial and sales records for the Board.
SKILLS REQUIRED
Good people skills, flexibility, resilience, and a can-do attitude
You will need to be organised and resourceful, and work at speed with accuracy when packing boxes
Keen and able to work effectively in a small, dynamic, committed team
You need to be physically fit and strong enough to move large boxes of vegetables and run a busy market stall
You will need an interest in sustainability and some understanding of why we need a more localised food system
An interest in cooking and ability to advise customers on how to use produce is an advantage
A full clean drivers licence is required
Application information
Please send CV and cover letter to becks@cultivateoxford.org by 27 August.
Please mention Roots to Work when applying for these jobs
About Cultivate Oxfordshire
Cultivate is all about bringing people together to create a better food system for Oxford. Better for everyone who eats food, better for everyone who grows food, and better for the planet. We provide routes to market for agro-ecological producers in the county, to enable them to make a living from food production. We sell this food to Cultivate's members, citizens of Oxford and Oxford University Students in a weekly bespoke local-produce-box.